YBS is a bilingual preschool and day care which offers a Japanese-English dual immersion language educational program from its' base in Yokosuka, Japan. Our programs extend from 1 years old through 12 years old.
YBS Preschool Care service with safe and warm environment for children under 3 years old, and great development center for preschool aged kids. YBS offers instruction in a bilingual setting, creating lessons in both Japanese and English, the children always enjoy their daily life with fun and a lot of smiles!!
Interact with Japanese friends and teachers Exposed to the culture and language from the early stage, Quality care which focus on little kids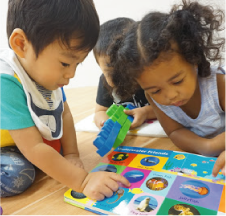 Philosophy of YBS Preschool
Having children learn in dual language early learning environment will help them be moreopen and adaptable to a bilingual state of mind, thus changing the world and making it a better place.

Yokosuka Bilingual School can make a change and so can you. Let's do this by encouraging, praising and supporting our students for a better future by building an international friendship, harmony and trust.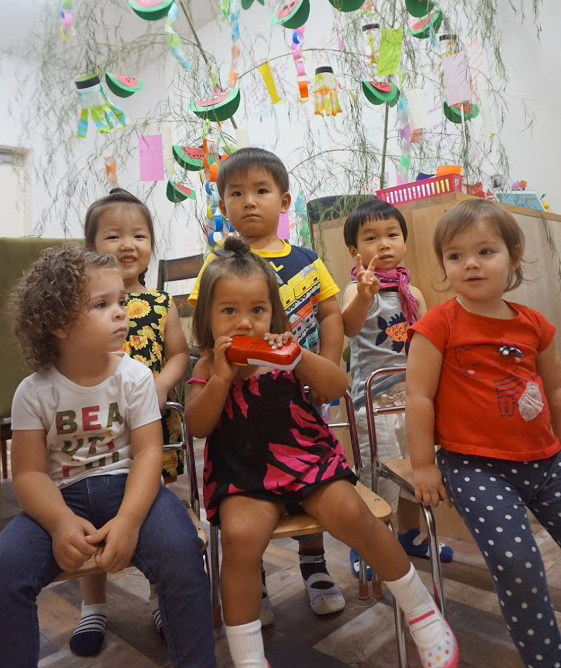 We are full supporters of EARLY LEARNING, and believe that it will implement the key social skills that will help them in their future education. Our aim is to get our students ready for a school setting in a constructive environment and to better future for a competitive world.


YBS Preschool Movie
Course description
YBS Preschool Care
1years old – 3years old
Safe and heartwarming bilingual environment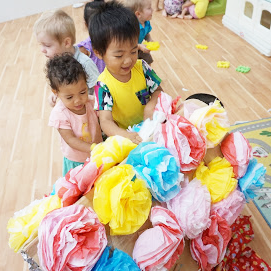 1 to 3 years old will experience the new world in our heartwarming environment.
Our nurturing teachers are aware that they are in a unique position to help young children learn to trust others and develop secure attachments with the important people in their lives. Our curriculum for this age group helps build relationships with children by showing how to create meaningful daily routines and experiences that respond to individual children' s strengths and interests. Also by being in a bilingual environment, children build up their senses and listening skills to become bilingual. This age group thrives on new experiences, and we fulfill this need by providing care, directions, and projects that allow them to explore the world without stress or pressure. We aim to work with each child as an individual and ensure that each day is a fun-filled adventure.
We believe that children grow up best when they are actively involved with materials and their peers. That is why we place so much emphasis on setting up the proper learning environment and building positive, meaningful relationships with children and their families.By encouraging curiosity, compassion, and a love of learning, our dedicated staff inspires imagination. Through richly textured learning experiences and a carefully designed environment, we encourage children to seek out information and look for facts. We encourage learning in Japanese and English, with speaking, singing. Children also experience a rich variety of educational subjects including finger play songs, art, exploring nature, and more . We also value imagination and playing with possibilities. Teachers encourage creative exploration through art, music, and movement.
What makes YBS preschool the best!
1.
Bilingual environment
1-3 years old's kids have the dual language ability. Language exchange in the classroom is the best way to learn a new language. Japanese teacher and English teacher, double system. Japanese teachers speak Japanese, American teachers speak English. Perfect Bilingual setting makes the children's brain dual language.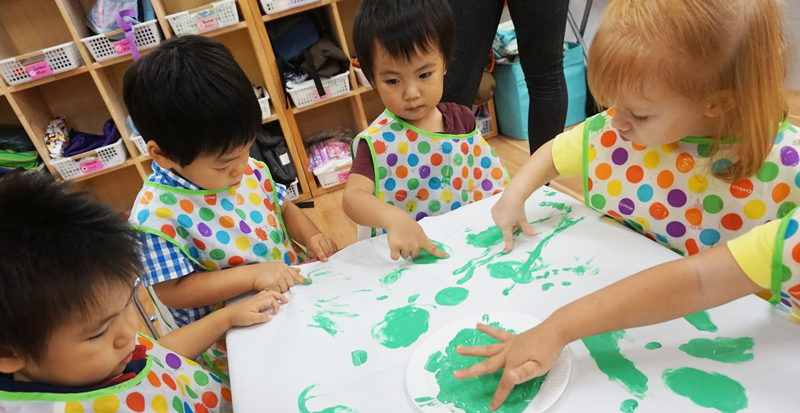 2.
Students and teacher ratio
One of our BEST aspect of our school is ratio in which it enables our teachers to closely observe each child's progress and provide valuable personalized attention. During their lesson time, we can focus on individual levels to progress efficiently. Our average teacher to student ratio is 1:6 for 2 and 3years old, and 1:4 for under 1year old.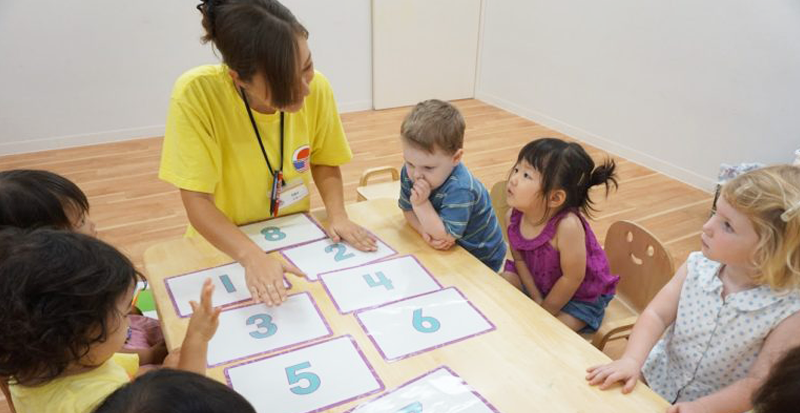 3.
Learning environment
YBS offers a learning environment that is different from all others. We respect your child's language preference and encourage them to express themselves. By doing so, your child can learn with patience and understanding in an international mindset. Children will learn Japanese through daily lessons that include vocabulary,songs, books and so one. Through our fun lessons and activities, they will enjoy Japanese songs and books as well. In our bilingual environment, children will enjoy communicating with Japanese friends and teachers by using a new language they have learned.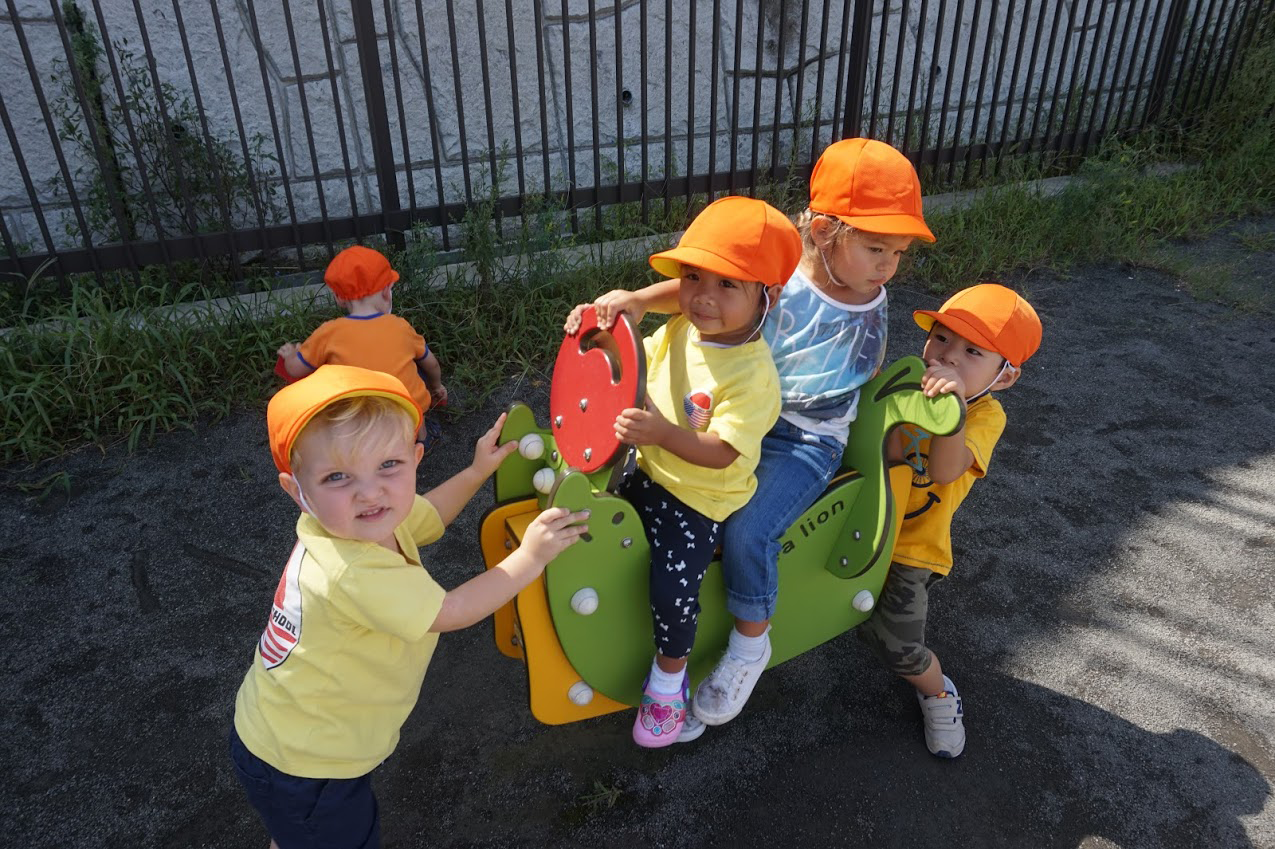 4.
Advanced Learning Curriculum
We focused on early childhood education.are structured learning environments for children before they begin kindergarten. Our educational philosophy is based on 2 best approaches, Montessori program and play-based learning. With these approaches, children will develop and improve their gross motor skills, fine motor skills, reflection and more.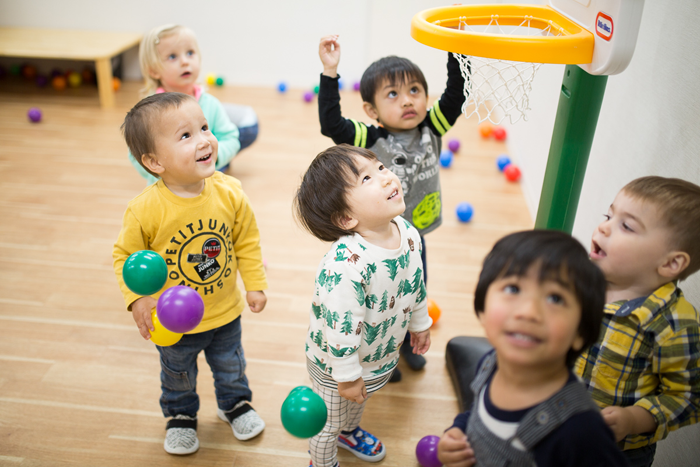 5.
Toilet Training and life skills
One of our goal is to teach and support children to grow up to independent and responsible individuals. At YBS, we are open to our students needs and personalities but we also encourage manners. As a classroom, teacher will lead children to improve their life skills, such as potty training, putting shoes or jacket on by them selves, which give children confidence and motivate for next step.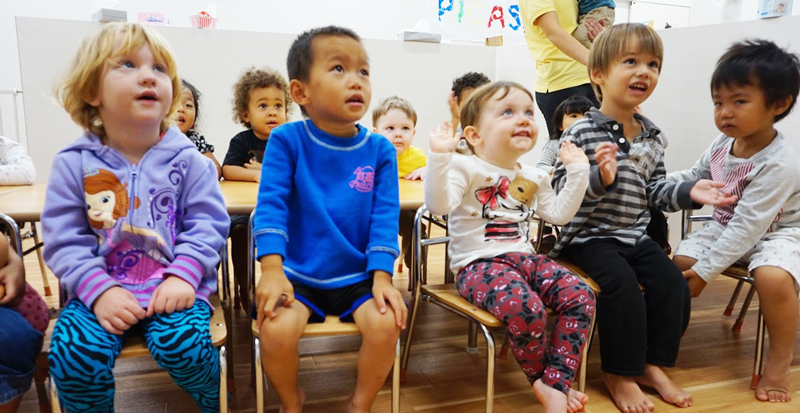 6.
Certified and experienced teachers
Our teachers have these certifications: Japanese Nursery School Certificate, CPR and First Aid Certificate. We have training system such as early childhood and CPR and first aid to improve our safe care program. Japanese teacher will be the main teacher of the classroom. Japanese teacher is here for the kids to learn Japanese, and mainly speak Japanese to the children. We teach Japanese!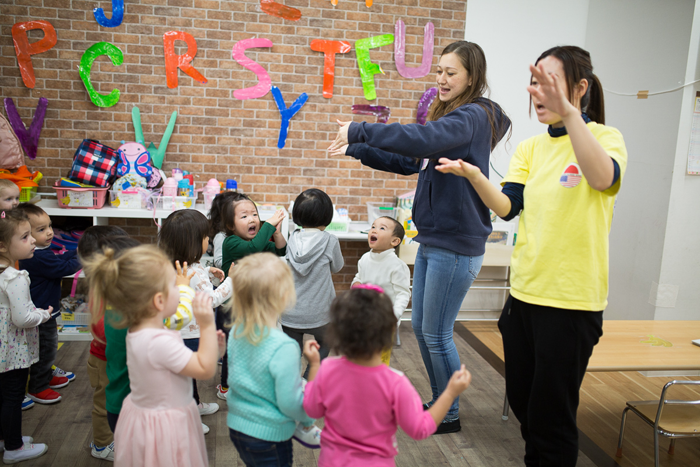 7.
Supportive for families
We are glad to support and communicate with parents in both languages. Our mission is to build a trusting relationship with parents. We teach Japanese language to English speaking students and we teach English to Japanese speaking students.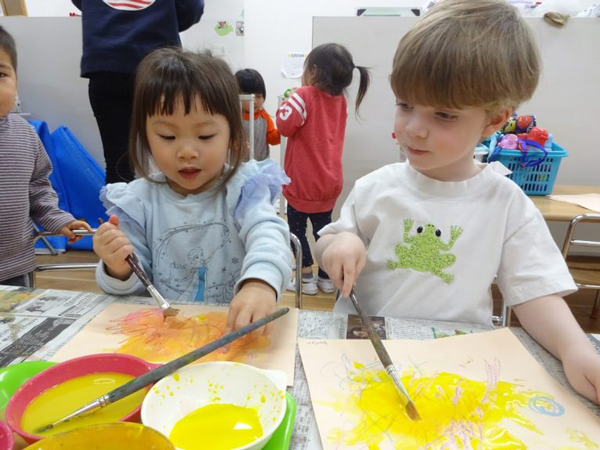 8.
Safe Environment
Our first priority is the safety of our children. With our safe environment of new tower building, security guards, and auto-lock door, we provide the care that children can enjoy daily life safely. We also set a illness policy for children to stay as healthy as possible.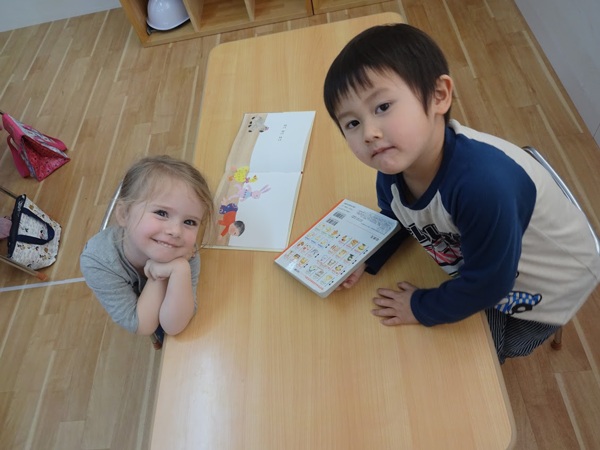 9.
Flexibility and Friendly
We embrace each other differences. Our motto is "Open and Honest" to everyone in YBS. We understand our cultural differences, as well as, the difficulties associated with the military lifestyle. We are open to new things and we would like to be flexible to support your life in Japan. That is what makes YBS different.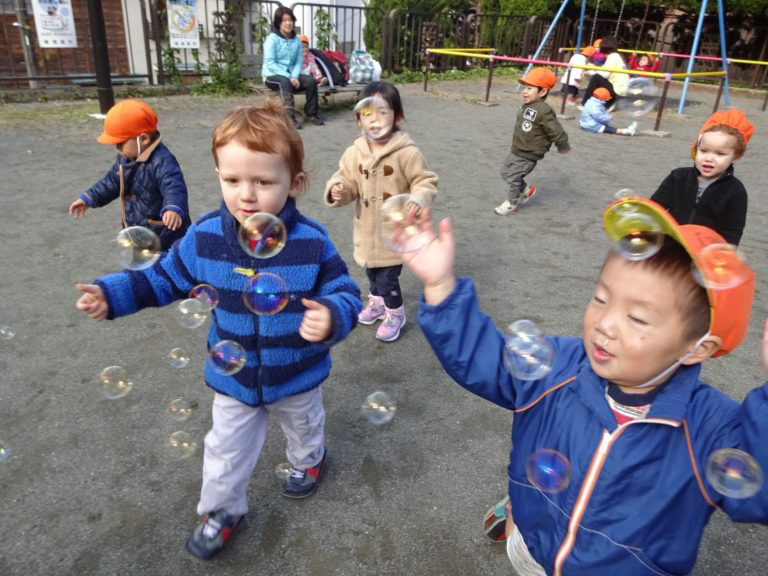 YBS education for preschool children
We focused on early childhood education. These are structured learning environments for children before they begin kindergarten. To provide best care with Japanese standards, we use 2 best approaches of Montessori program and play-based learning as our educational framework.
Montessori Approach
Our Preschool developmental program is synonymous with the Montessori program, where all aspects of the environment were created specifically for preschool age children to facilitate the education of young, curious minds. The Montessori Curriculum is an innovative learning framework that incorporates specific learning outcomes and knowledge skills that align with children's developmental needs and interests.

The idea is for children to learn individually and at their own pace by moving freely around the room and choosing from a wide range of hands-on, age-appropriate activities that are designed to teach specific skills. The primary goal is to help children learn concentration, motivation, self-discipline and a love of learning,

We emphasis on personal responsibility. Children are encouraged to take care of their own belongings and personal needs, such as cleaning up after themselves and preparing their own snacks. Schools aim to foster a healthy self-esteem and sense of independence, allowing children to make their own choices and teaching them basic skills.

The classroom is very structured in its design and in how a lesson is taught.
Play Based Approach
The importance of play on a young child's development cannot be understated. Play gives children opportunities to understand the world, interact with others, express and control emotions, develop symbolic capabilities, attempt novel or challenging tasks, solve problems, and practice skills. Play may contribute to the development of posture, movement, and self-sufficiency. There also appears to be a positive relationships between the frequency and complexity of young children's play and IQ, problem-solving, creativity, language and literacy, and social competence.

Active, play-based learning provides an excellent environment for fostering young children's cognitive development, especially for those thinking skills essential for cognitive depth.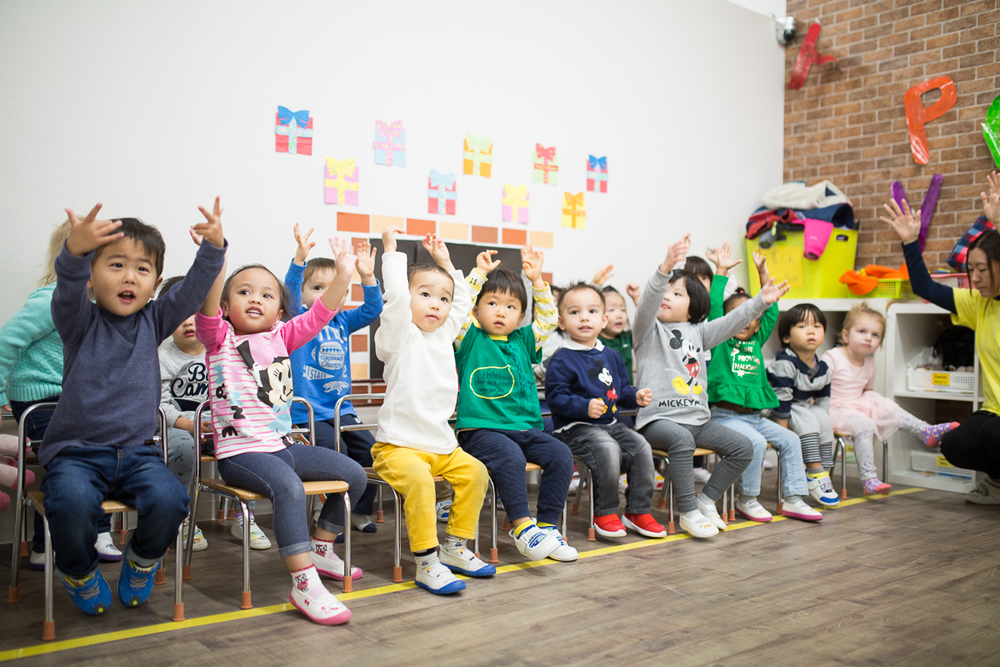 Bilingual programs and activities
Exposed to Japanese:

Students will be exposed to Japanese by spending time with Japanese classmates and teachers. During a school day, children will absorb a new language by listening, singing, dancing, playing in Japanese with peers. It's perhaps the happiest and best way to learn Japanese through experience.

Life skills:

Learning life skills is very important for our students. We teach about being independent, responsible, respect your peers, and much more. We feel that if we instill proper etiquette at an early age, our students will have a better social aptitude.

Potty training and manners:

We work on potty training, following rules, sharing together, positive friendships, etc.

Arts:

Arts is the best way to develop fine motor skill. Also creativity leads children to open their way of thinking, be creative and become more proactive!

Story time:

Listening and imaging the world through a book. it enhances their use of language and its vocabulary it contains.

Music and dance:

Exposing students to music and dance helps them to develop gross motor skills, recognize words, and allow them to practice self-expression.

Nature and Community:

Children gets to explore outside environment and local town when its nice day. Seeing and feeling the change of seasons, finding nature lives is one of the important learning for children.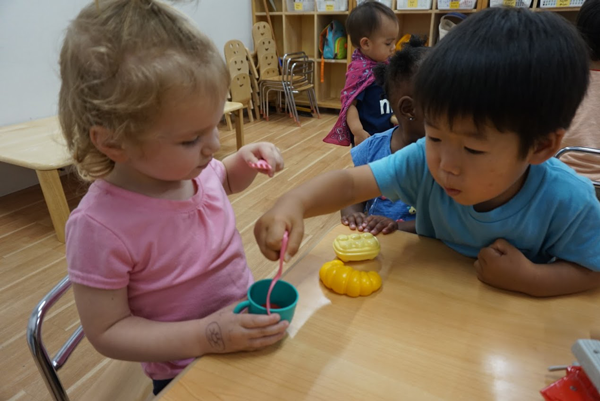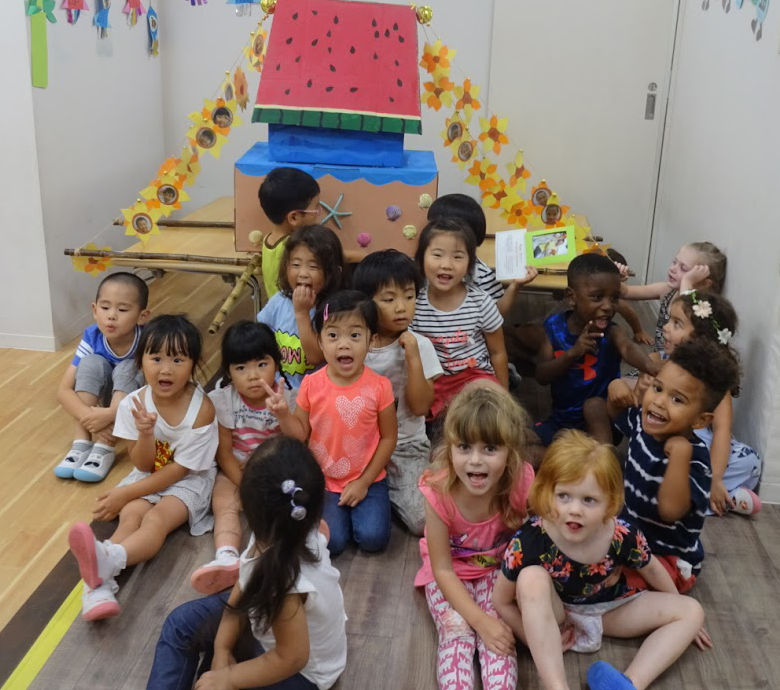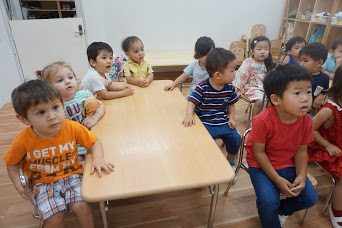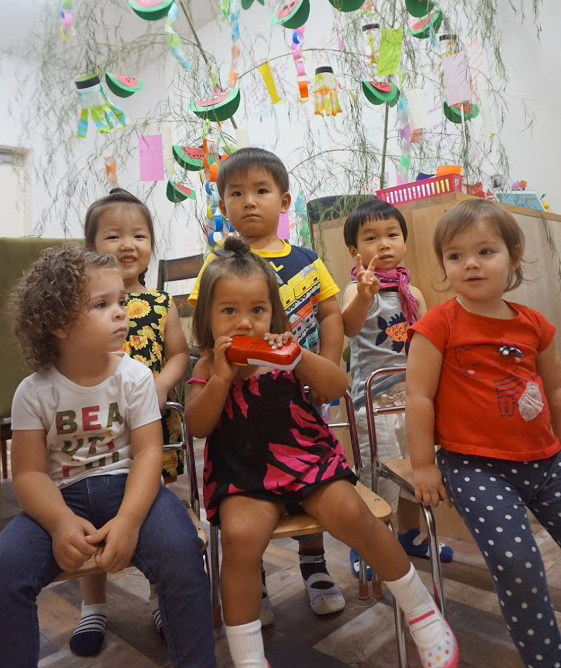 Location
YBS Pre School
Dental College Clinical Research bld.3F 82 Inaoka-cho Yokosuka-shi, Kanagawa

Daily schedule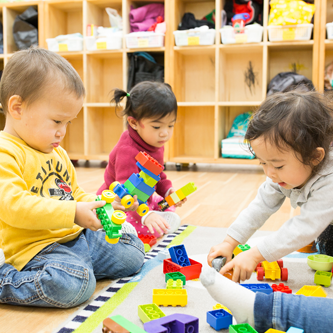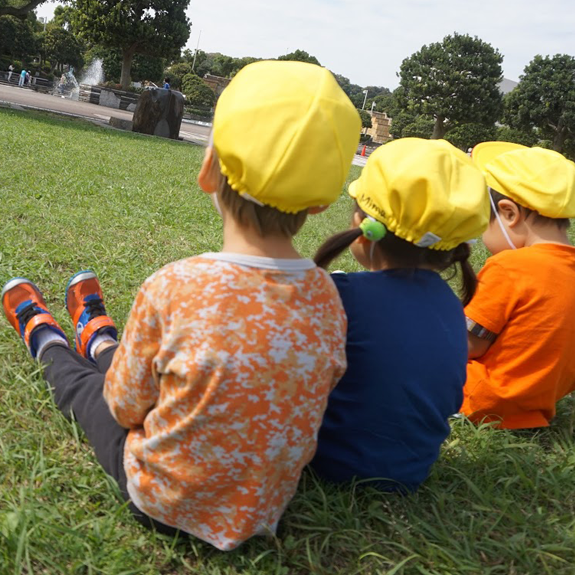 Check in - Free play

Morning circle time

Outside activity

park, nature walk,exploring the neighborhood etc.

Lunch time

Lesson/Nap time

The 2,5 to 3 years old stay up for a short lesson then go lay down for a nap. Children younger than 2.5 go lay down right after lunch.

Snack time

snack will be provided. *Please pack a snack if your child has any food allergy.

Free play
Happy Voice!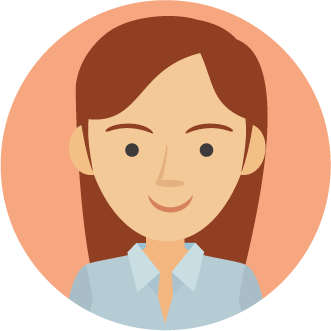 Seeing the kids interact with the teachers in Japanese!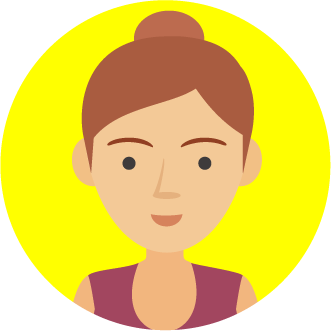 At YBS, my child learns way more than I could teach him and is excited to see his teachers and friends each day.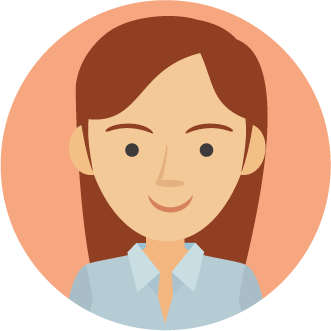 The hours of operation are very helpful and we love the constant park trips for the preschool.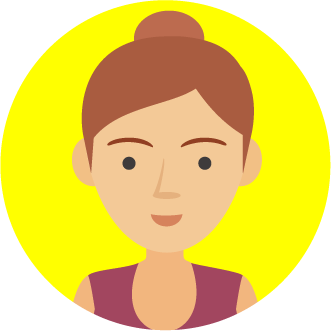 We love the teachers and how much they care about the students in the school.
Q & A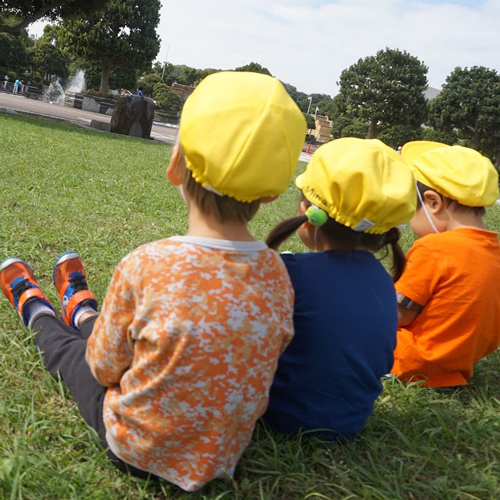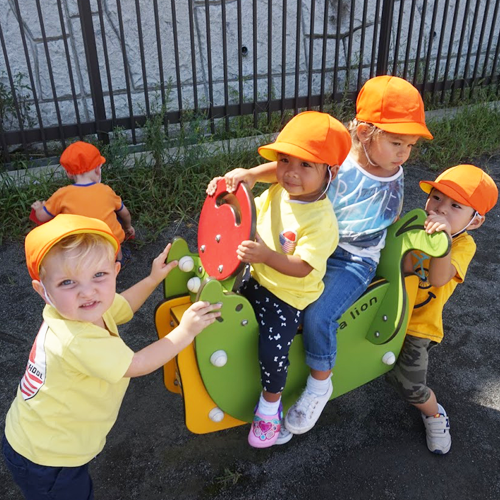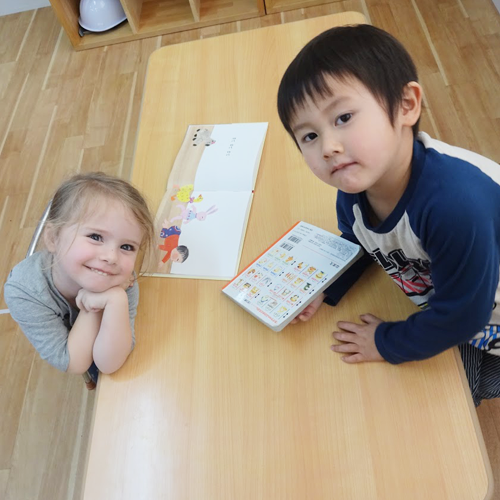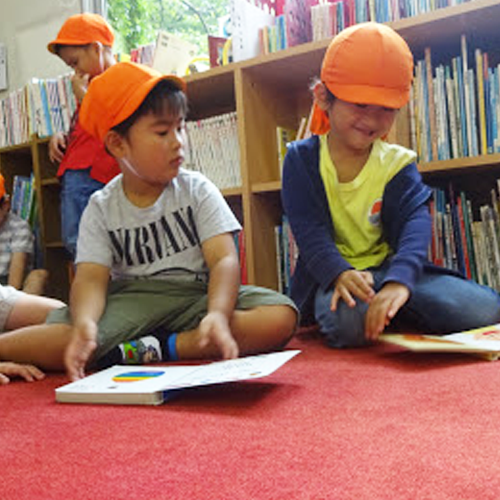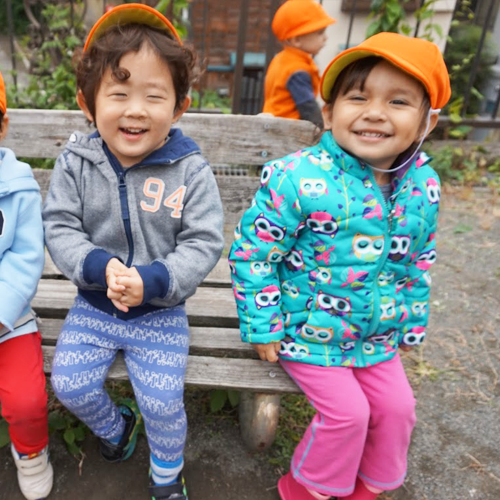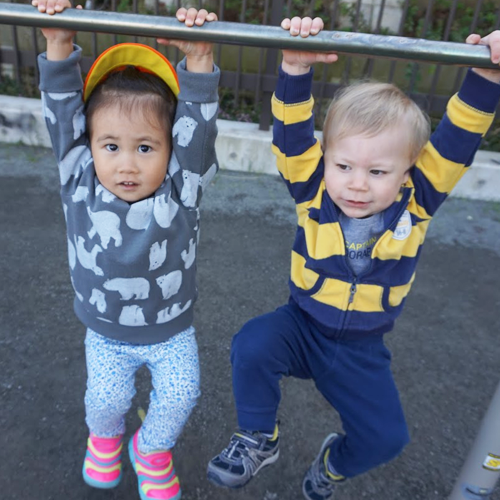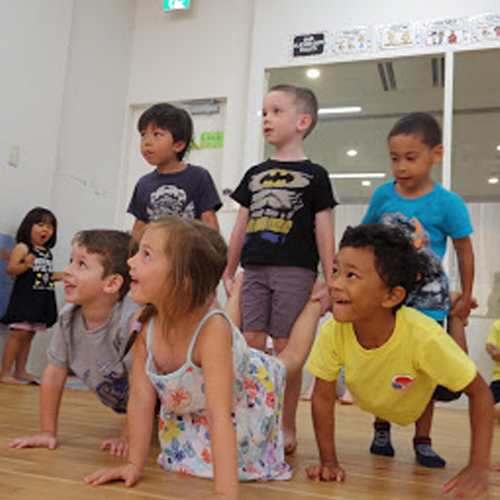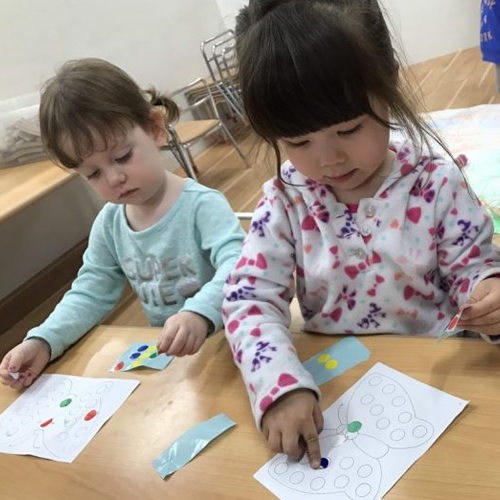 Do we have English speaking teachers?
Yes, please contact us in English!
How old is the youngest age for preschool?
Our preschool program is for 18months to 5years old.
Do I have to pay whole tuition for leaving long term vacation?
No. Please inform us and the tuition can be revised.
How many days can we enroll our child at YBS?
Minimum 2 days a week to a maximum of 6 days a week. We are flexible.
Can we make up a day when our child is unable to come?
Yes. Please inform us 2 days prior. The number of make-up days are limited depending on your contract.
Are we required to be potty trained?
No, we also help with potty training.
Do you offer transportation service for preschool?
No. We only offer pick up service for after school program.
Do we provide lunch?
No we don't. You can order a Japanese lunch for your child for an additional 350yen.
Enrollment process
Inquiry
Please contact us set up the school tour!
School Tour
Come and gather all the information about YBS at school tour!
Trial Lesson
Schedule trial lessons for your child!
Please see if YBS is the best environment for your child through trial lesson!
Enrollment orientation
We will get ready together for your enrollment.
Enrollment
Start the first day of YBS education!
Contact Form